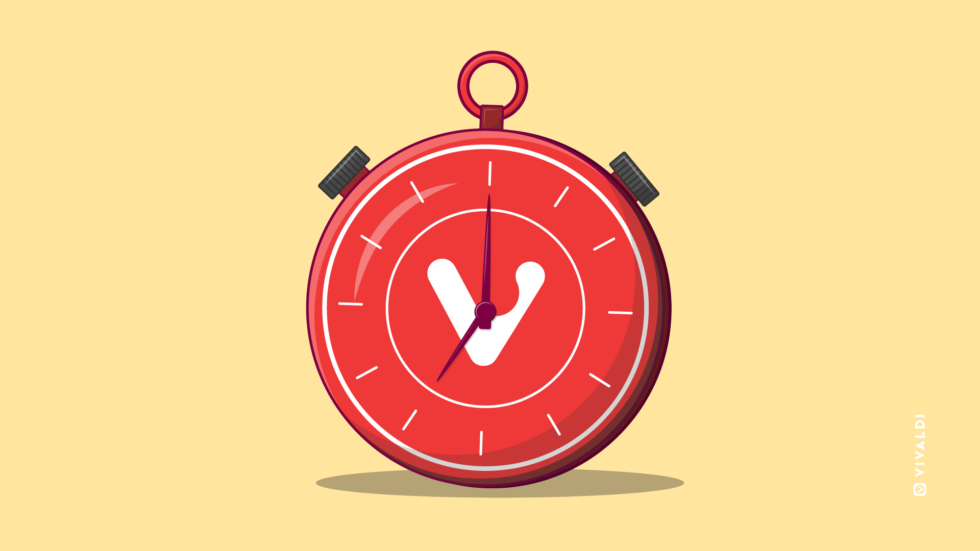 Vivaldi on Android is one such mobile browser that's designed to be as unique as the person using it: you. So, apart from blocking unwanted ads and protecting you from trackers, it keeps you in control with a number of unique built-in features to choose from.
With each update of Vivaldi on Android, we aim to make it even more customizable and easier to use. Our recent Vivaldi 4.0 release on Android was no exception, adding 3 new features that can save you time and help you browse better. All without sacrificing your privacy.
Personally translate web pages with one tap
First, there's Vivaldi Translate, a built-in, privacy-friendly translation feature powered by Lingvanex and hosted by Vivaldi, which keeps your translations out of reach of companies like Google or Microsoft.
Highly requested on Vivaldi on Android, the built-in translation feature will help you read translated pages in your favorite languages ​​with just a tap or so.
Vivaldi translation is a rare feature – most mobile browsers do not provide a translation feature. And, if they do, your translation activities are not private. Now you can break through language barriers without any privacy trade-offs.
To translate a page, open the Vivaldi menu and select "Translate". (Additional options appear at the bottom of the screen, just above the bottom toolbar.) To choose a different language and manage your preferences, simply tap Menu. From there, you'll find the translation setting in Settings > General > Language settings.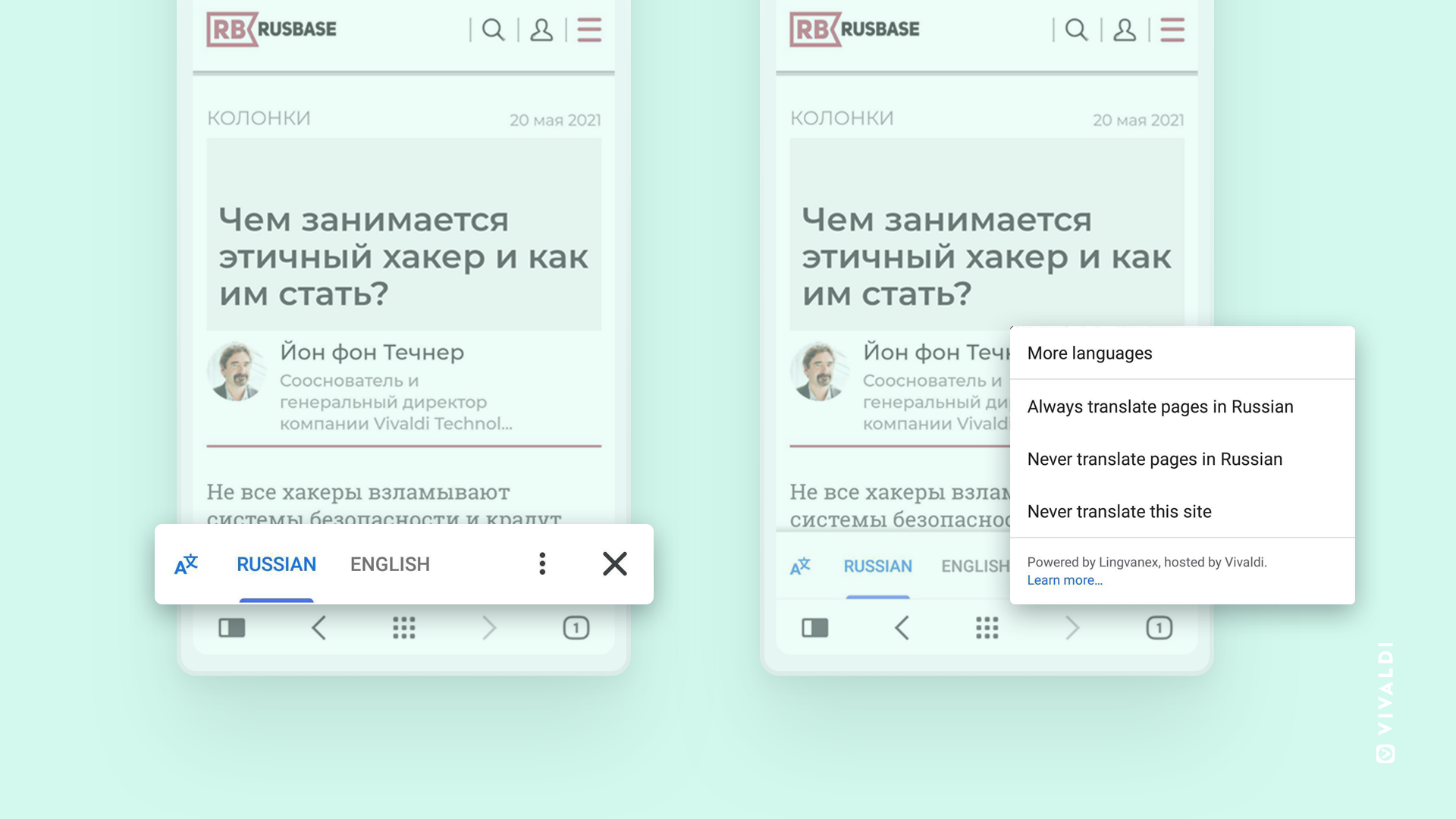 Besides translation, we've also made it easy for you to switch search engines instantly.
Switch search engines quickly and easily
Vivaldi on Android offers several search engines for you to choose from, but we wanted to offer a fast, easy way to switch between them. But to accomplish this we had to overcome some challenges.
First, we had to hit on the right search engine display to enable fast switching. After trying out different display layouts, we settled on a horizontal display as the cleanest.
Because Vivaldi is all about customization, our next challenge was to make sure the feature is easy to use, whether you prefer the top or bottom address bar, or the search widget screen.
What we've settled on makes it possible for you to switch from one search engine to another with a single tap. Simply type the one letter search engine "nickname" into the browser's address field, followed by a space and the search term.
And, since not everyone changes their search engine often (or at all), we've given you the option of whether to enable/disable this feature in the settings.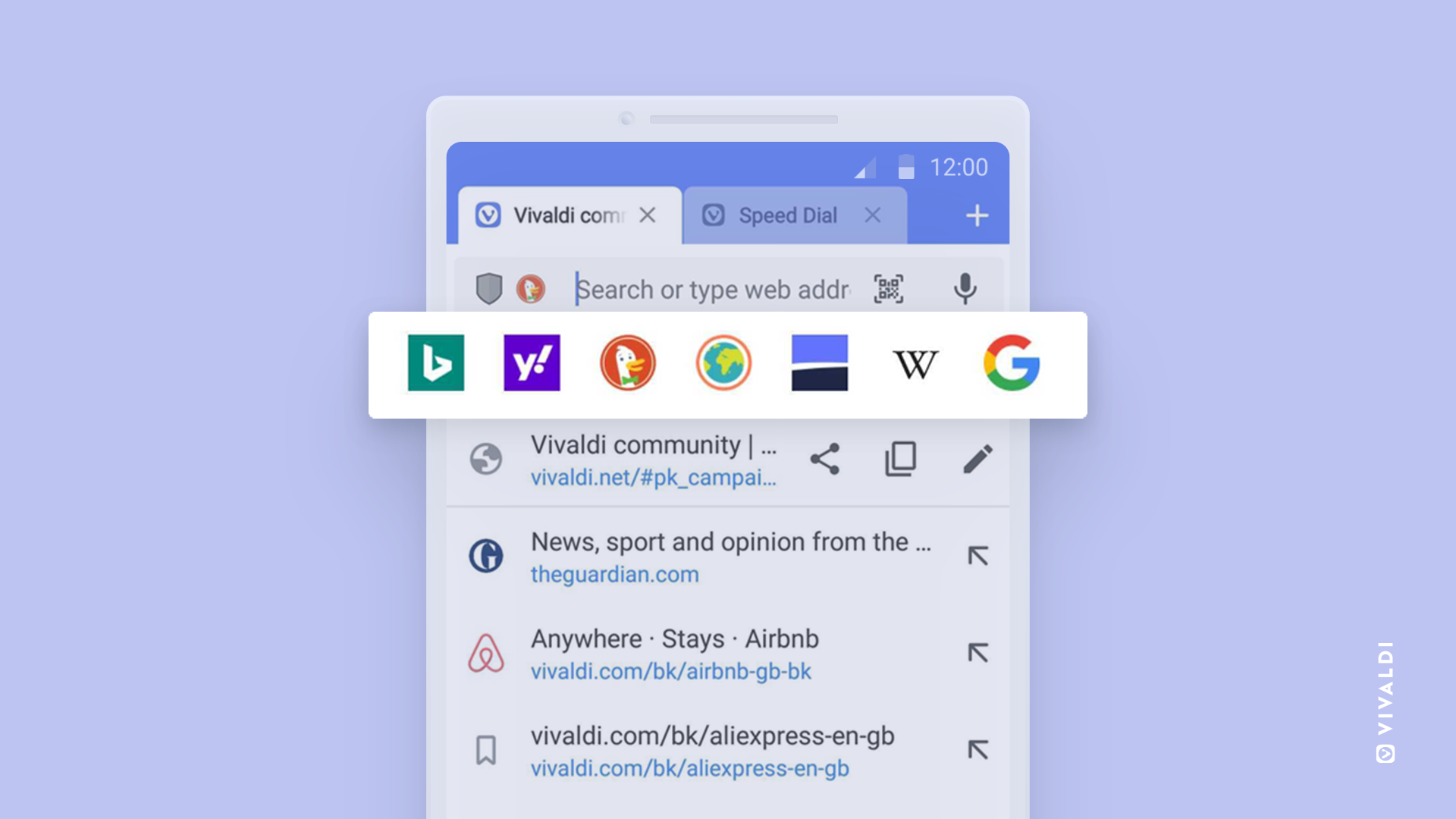 While not everyone turns to search engines, many of you use external password managers. Read on to learn about the hard work we put in, so you can easily log into your favorites.
Log in using your preferred password manager
Even though you can save your account login in Vivaldi browser, we know that many of you use dedicated password manager apps. And judging by your requests, we knew that Vivaldi on Android needed to support third-party password managers.
We also knew it would take a lot of work on our part, so it would work seamlessly for you.
The key was implementing the Android Autofill API, which is responsible for handling communication between third-party password manager apps on Android, and Vivaldi.
Now, almost every Android app supports filling out forms and fields out of the box. But with a browser, it's different, because instead of just displaying entry fields and forms (which already support the Android Autofill API), browsers display web pages with a mix of content.
So, to make this work in Vivaldi on Android, we need to be able to detect forms and fields that may be auto-filled – and make them traceable to the Android Autofill API. And since different phone manufacturers and Android versions handle things differently, this was no trivial task. Therefore, we aimed for an implementation that supports autofill in all situations.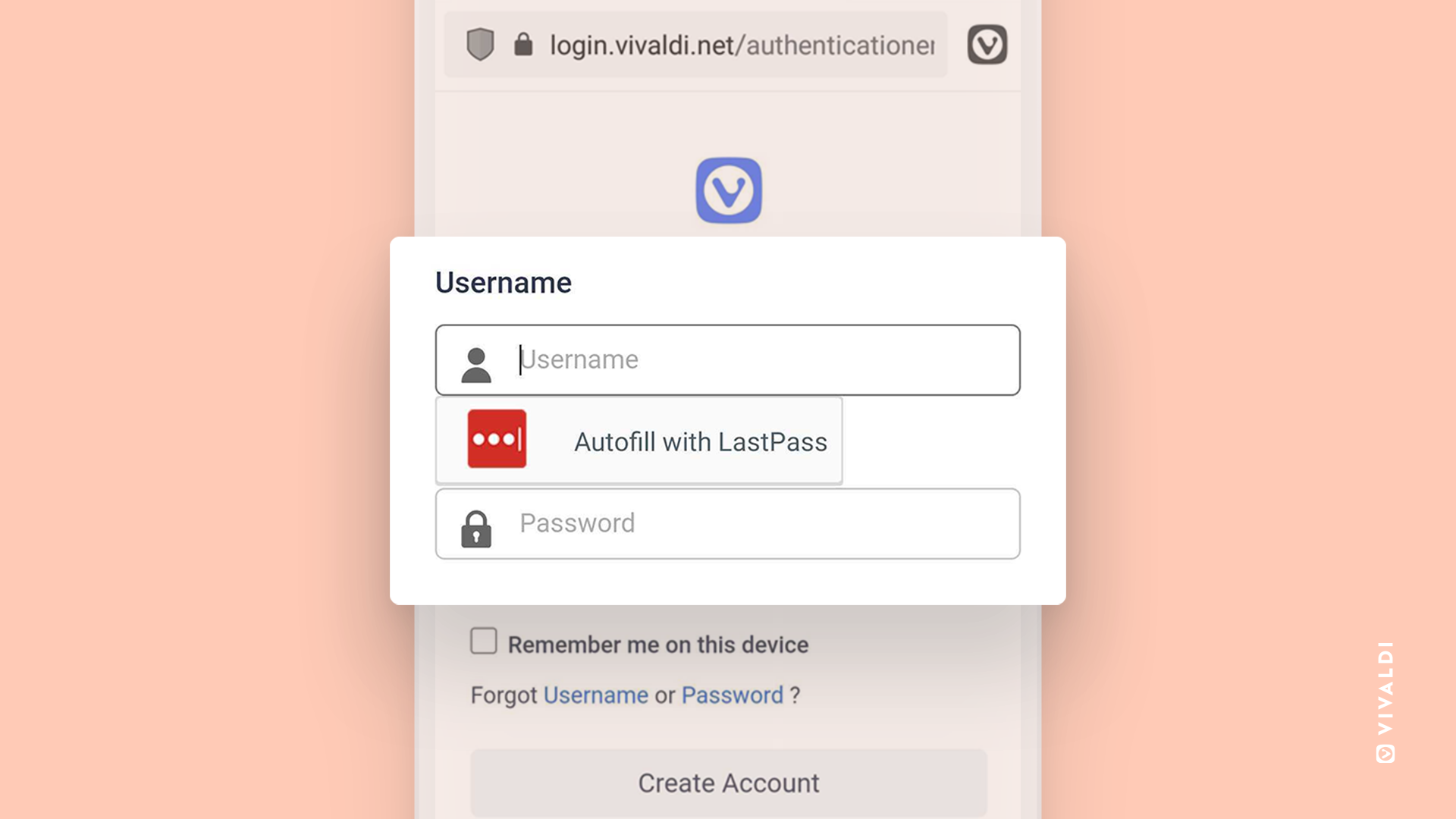 So far, so good. Everything was working fine for autofill from our side. But the biggest challenge was yet to come: reaching out to external password manager companies to support Vivaldi on Android, to make sure you have a seamless user experience. Well-known password managers like 1Password, Bitwarden and Enpass have already released new versions with support for Vivaldi on Android.
It's amazing, and they all work great with Vivaldi on Android. Be sure to enable the autofill service for your favorite password manager in Android's settings.
But there's one player in particular that unfortunately hasn't released an update yet: LastPass. It's a shame really, because it makes things more cumbersome for our shared users. And since it's not rocket science, we hope they add support for Vivaldi and its new, new autofill implementation soon. If you're a LastPass user and want to be able to use this functionality in Vivaldi on Android, be sure to let them know!
Get Vivaldi for Android now for these features – and more!
To try out our new features, download Vivaldi on Android from the Google Play Store or UptoDown, the Android App Store. We hope they make your browsing on Android even better.
And if you like Vivaldi on Android, you should try our desktop version which runs on Windows, Mac and Linux computers. Now understand
Are there other features on your Vivaldi on Android wish list? Open a thread on the Android Change Request Forum, and let us know what you'd like us to add to your browser.
Which of our new features are most useful to you in your daily browsing life? Tell us in the comments!